BlueStream Romania iptv Receiver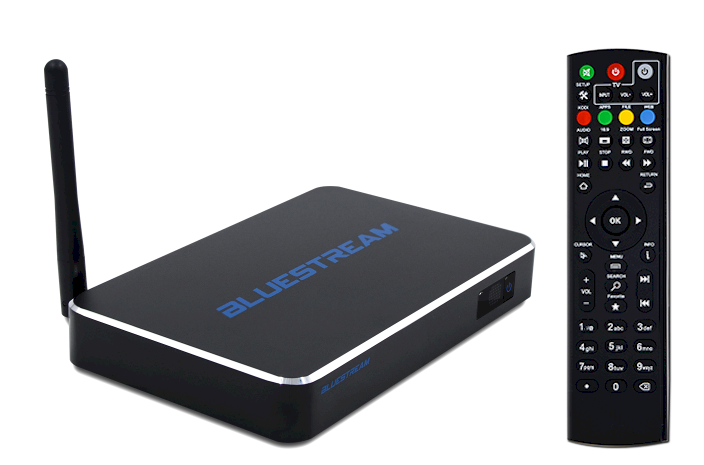 Enjoy over 150 Live TV channels from Romania & Moldova With EPG (electronic program guide). Plus over 100 live English channels.
The box is very easy to navigate through and change channels with. You can change channel with; Up & Down buttons, numbers 0 - 9 or use the channel list and press OK on the remote. Add your favorite channels to the favorite list, then you'll always have fast access to the channels.

BlueStream TV Box is powered by Android You could have fun playing games, Browse The internet and use Facebook, instagram. All apps can be simply downloaded directly from the Google Play Store.
Box Contents
- Bluestream IPTV Box
- USB WiFi Adapter
- Remote Control
- HDMI Cable
- 120/240 A/C Power Adapter
- 2 AA Batteries
Premium Channels

1 Music Channel
AMC
Antena 1
Antena 1 HD
Antena 3
Antena Stars
AXN
AXN Black
AXN White
B1
Cartoon Network
Cinemax
Cinemax 2
Da Vinci Learning
Digi 24
Digi Animal World
Digi Film
Digi Life
Digi Sport 1
Digi Sport 1 HD
Digi Sport 2
Digi Sport 2 HD
Digi Sport 3
Digi Sport 4
Digi World
Discovery Channel
Disney Channel
Disney Junior
Diva Universal
DocuBox
Etno TV
Eurosport 1
Eurosport 2
Favorit TV
Film Cafe
Film Mania
Fine Living
Fishing & Hunting
Happy Channel
HBO
HBO 2
HBO 3
History
Kanal D
Kiss TV
Look Plus
Look TV
Minimax
Mooz HD
National Geographic
National Geographic Wild
Național TV
Neptun TV
Paramount Channel
Prima TV
PRO 2 HD
Pro Cinema
Pro Gold
Pro TV
Pro TV International
Realitatea TV
Romania TV
Sport.ro
Taraf TV
Telekom sport 1 HD
Telekom sport 2
Telekom sport 3
Telekom sport 4
Telekom sport 5
Telekom sport 6
TLC
TV 1000
TV Paprika
TV SudEst
TVR
TVR 1
TVR 1 (Backup)
TVR 2
TVR 2 (Backup)
TVR 3
TVR 3 (Backup)
TVR Cluj
TVR Craiova
TVR HD
TVR Iași
TVR International
TVR Tārgu-Mureș
TVR Timișoara
U TV
ZU TV

Local Channels

Agro
Alfa Omega
Alfa Omega TV International
Antena 3
B1
Banat
Bucovina
Bucuresti
CasaMia
Columna
Credo
Curier
DiBi
Digi 24
Digi 24 Brasov
Digi 24 Cluj-Napoca
Digi 24 Constanta
Digi 24 Craiova
Digi 24 Galati
Digi 24 Iasi
Digi 24 Oradea
Digi 24 Timisoara
Favorit
H!t Music Channel
Hora
Iasi TV Life
Ida
Inedit
Kapital
MDI
Nasul
Neptun
Realitatea
Romānia TV
Sāngeorz
Speranta
Tele M
Telestar 1
Traditii
Trinitas
Trinitas
TV Alpha Media
TV Partener
TV Sighet
TV Sud
TV SudEst
TVR International
U TV
Valea Prahovei
Vox TV Regional

Moldova
Acasa īn Moldova
Aici
Busuioc .
Jurnal
Noroc
Pro TV Chisinau
Publika
Ru TV Moldova
TV Elita
TV Moldova 1
TV Moldova 2
TVR Moldova