Return Policy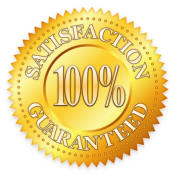 100% Satisfaction Guarantee
We want you to be completely satisfied with your purchase.

Unlike other companies we do not charge a restocking fee. All returns/exchanges must be made within 14 days of receipt of the merchandise. Merchandise must be in perfect and new original factory condition, and must include all original packaging materials, warranty cards, manuals and accessories. The customer must return the merchandise at their expense. also Shipping charges we incur are not refundable.

If the Merchandise is not in perfect new factory condition or missing original packaging materials or accessories customer must pay a 20% restocking fee.

Unwanted products may be returned with prior authorization only. All returned merchandise must have a Return Authorization number (RA#).

We want to serve you fast so If you receive an item and it has a manufacturers' defects Just pay for another one VIA PAYPAL so we can ship it the same day and we will fully refund you as soon as we receive the defective item back from you.

No returns or exchanges after 14 days from date of the delivery. Products with Manufacturer Warranties which exceed 14 days, may be returned directly to the manufacturer according to their instructions.

If the item has been received to our warehouse after 14 days from the original day of the receipt of the merchandise, it will be send to the customer at their expense. When requesting RA# please specify if an exchange is not required. Otherwise, we will send an exchange to the customer if the merchandise is defective.

REFUSED DELIVERY:
Customers will be responsible for all charges associated with shipping and handling. Once the merchandise is returned to our warehouse, credit will be issued for the original purchase price less shipping and handling.
Credit Card chargeback:
Any credit card chargeback will be handled by our collection agency you will automatically be put in collection if we receive charge back case our bank may honor a full refund immediately and our collection agency will start billing you if you don't pay them with in 30 days you will be reported to the credit Bureau agency we strongly recommend that you contact us to avoid ruin your credit for 7 years....We take very seriously credit card scammers we will do our best to solve any inconvenience with our customers please call us or email if you have any complaint or if you are not satisfied with our service...