Skylink South Korean IPTV Box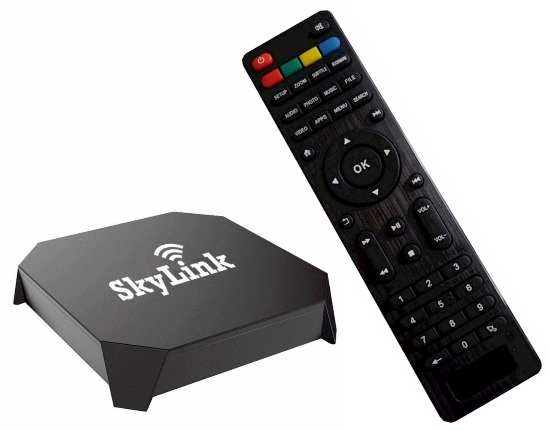 Only $299.99 includes 1 year Subscription . after that you can renew for $199 a year.
Enjoy over 100 live South Korean TV channels Plus Korean Movies, TV shows Video-on-Demand, over 100 English Live TV channels and American Movies and TV Shows with Korean subtitles.
This box has Program Guide (EPG) and 7 Days Time shift for all the popular channels so you can watch what you missed.
This box is very easy to navigate through and change channels with. You can change channel with; Up & Down buttons, numbers 0 - 9 or use the channel list and press OK on the remote. Add your favorite channels to the favorite list, then you'll always have fast access to the channels.
Skylink TV Box is powered by Android You could have fun playing games, Browse The internet and use Facebook, instagram. All apps can be simply downloaded directly from the Google Play Store.
Box Contents
- Skylink Android TV Receiver
- Remote Control
- HDMI Cable
- 120/240 A/C Power Adapter
- 2 AAA Batteries
- User manual
Korean Channels

KBS1
KBS2
MBC
SBS
YTN
TV CHOSUN (조선)
MBN
CHANNEL (채널) A
JTBC
TVN
OCN
GOLF CH
JTBC GOLF
SBS GOLF
SBS SPORTS
MBC SPORTS +
KBS N SPORTS
SPO TV2
IB SPORTS
SKY SPORTS
EBS
SUPER ACTION
TOONIVERSE
M-NET
INET
CH CGV
KBS DRAMA
MBC DRAMA
SBS PLUS
XTM
SBS MTV
MBC EVERY1
DISNEY
MBC MUSIC
COMEDY
FOX
OGN
CTS

Other Channels

All The K-pop
Arirang
Arirang TV UN
Arirang TV World
BBS 불교방송
CGN TV
CHING M
EBS +1
EBS 1
ETN연예
Everything TV
GCN
Good TV
GS Shop
JTBC NOW
KBS World 24
KBSN PLUS
KBS부산
LLBN Korea
MTN
NTDTV
OBS W
ONT M
QBS
Quran Hidayah Korea
RUTC
TV조선
YTN DMB
YTN KOREAN
YTN 라이프
YTN 사이언스
가요TV
매일경제TV
매일경제TV 스페셜
문화유산채널
서울경제TV SEN
서울경제TV SEN PLUS
실버넷TV
아르떼TV
아시아경제TV
애니프렌즈
애터미TV
에이풀
연합뉴스TV
이토마토TV
정철영어TV
채널A
한국경제TV
한국당구방송(KBNTV)
한문화 중심채널, STB상생방송
홈앤쇼핑